Event Management App Platform
Organizing sports events can be a daunting task, especially when it comes to ensuring accurate and real-time updates for the participants and spectators. With Next Event, Live Athlete Tracking App, Next Event revolutionizes the way sports events are managed. Now, event organizers can effortlessly create and manage athletic events through our intuitive Mobile App Event Tracking system. The hassle of manually updating results and keeping participants informed is a thing of the past.
This innovative solution ensures a smooth and engaging experience for both organizers and attendees, making Next Event the go-to choice for anyone looking to enhance their sports event management. Next Event's Live Tracking for Sports Events feature addresses the need for instant and accurate information dissemination. With our tracking mobile app, organizers can create new events dynamically, bringing them to the mobile app effortlessly.
The platform offers a unique opportunity for sponsors to market their brands effectively by displaying banners in the event section, reaching a wider audience and maximizing exposure. Participants and spectators alike can now enjoy the thrill of sports events without worrying about missing out on crucial updates. Clinch the future of sports event organization with Next Event – where live results meet unparalleled convenience.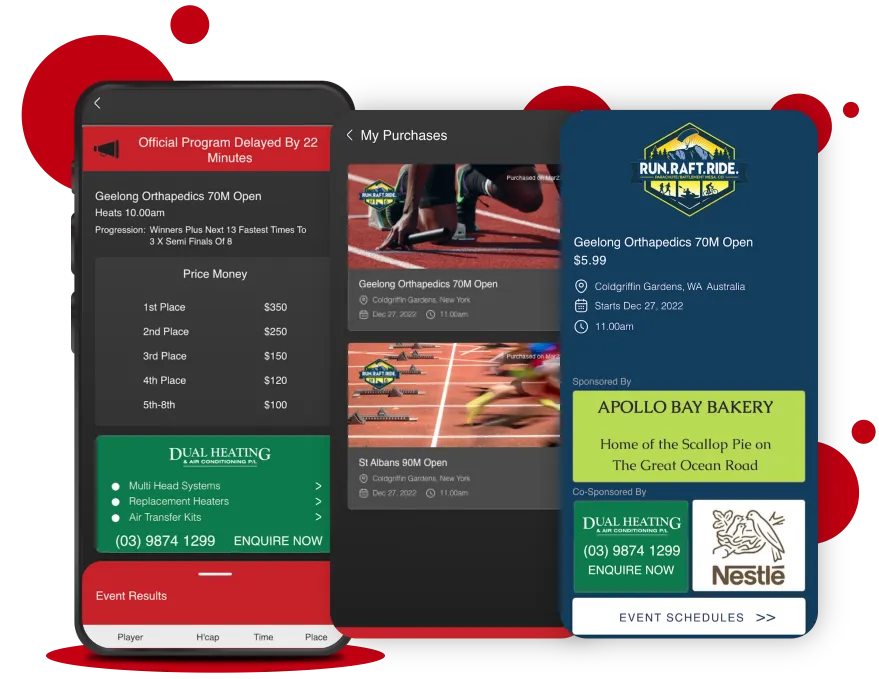 Gift Races Allows Athletes Mobile App
Pro running or Gift races allows athletes of all ages and abilities to compete in a fun and competitive environment. Each athlete is given a mark, or handicap, based on their ability, giving them an equal opportunity to triumph in their chosen event.
Read the challenges we faced and how we helped our client achieve their goals